Infoview Systems is excited to announce its attendance at the upcoming WMCPA Conference on March 14th -16th
Events Date: March 14th to 16th, 2023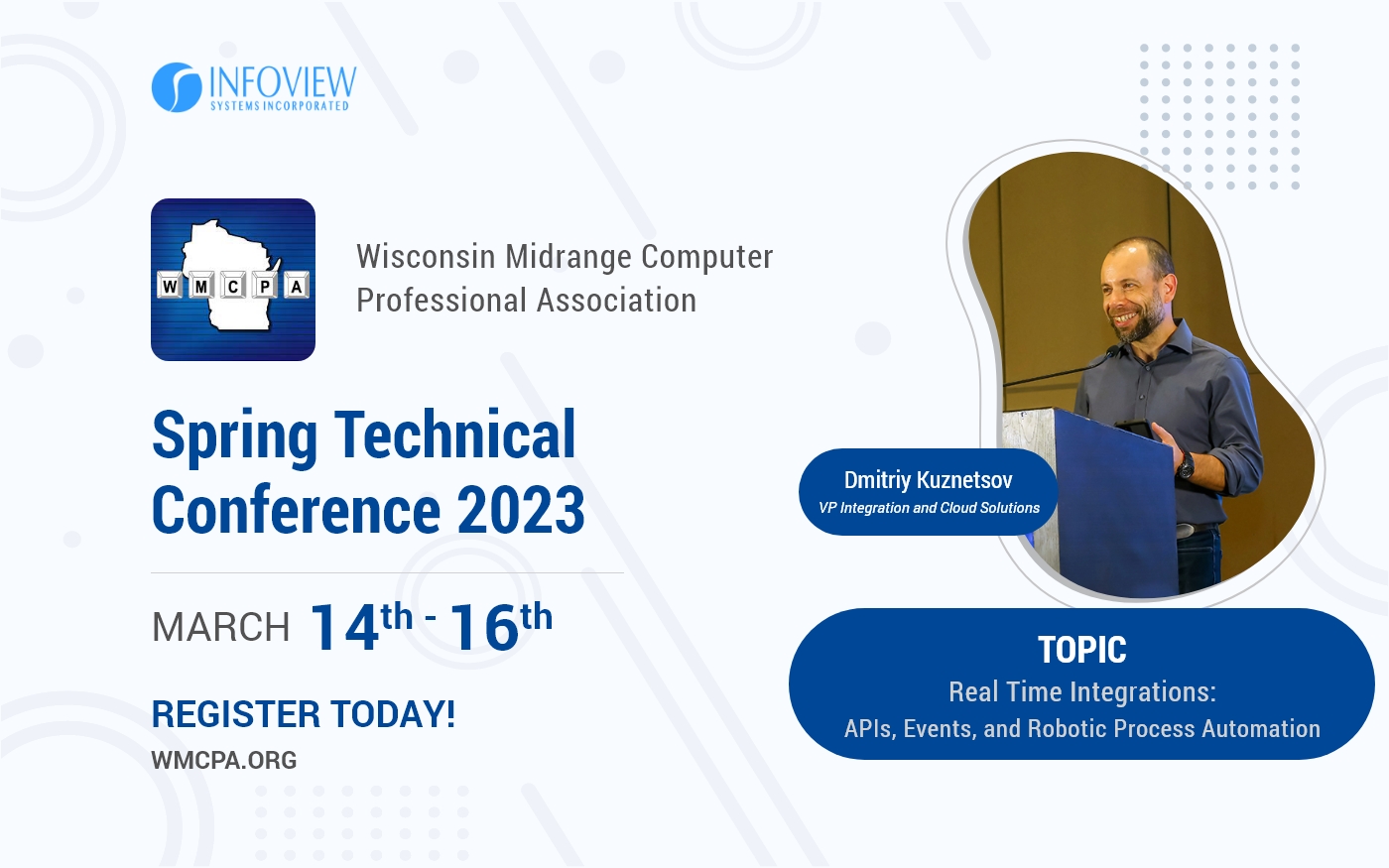 Infoview Systems, a leading provider of integration architecture solutions, is excited to announce its sponsorship attendance at the upcoming WMCPA Conference on March 14th – 16th. The conference is a gathering of IBM i professionals, vendors, and IBM leadership in an informal and intimate format at the beautiful Lake Lawn resort in Lake Geneva, WI.
Our VP of Integration and Cloud Solutions Dmitiry (Dima) Kuznetsov will be speaking at the conference on the 16th of March, sharing his views on real-time integration approaches, and discussing the most popular integration architectural styles and use cases. Dima will discuss APIs, Events, Data Replication, and Robotic Process Automation (RPA) approaches similarities, and differences.
This session is sure to be of interest to anyone working in the integration architecture space or facing challenges connecting IBM i applications in a secure, reusable, and systematic way. Whether you are a seasoned professional or just starting out, you'll gain valuable insights into the latest trends and developments in the industry. The conference also provides the experience to network with other professionals in the field and learn from their experiences.
At Infoview Systems, we are passionate about helping our clients achieve their integration and IBM i modernization goals. Stop by our booth to learn more about our suite of simple, intuitive easy-to-use IBM i integration products. We are excited to attend the WMCPA Conference and talk about integration challenges and opportunities with fellow
IBM i developers.
We are looking forward to seeing everyone at the conference on March 14th – 16th and hope to see you attending Dmitiry's presentation to learn more about API-led and Event-Driven Architectures. Stop by at our booth for a quick chat!
Copyrights © 2022 by Infoview Systems Inc.